Year 2 2016/17
Welcome to the Year 2 page
Dear Parents/Carers,
We hope you had a restful summer holiday and welcome to Year 2.
The following information is an outline of the work to be covered this term in different areas of the curriculum. These notes are to help you to be able to best support your child's learning both at home and at school. A curriculum overview for the year has also been attached.
The topic for the whole of the Autumn term is 'All About Me'.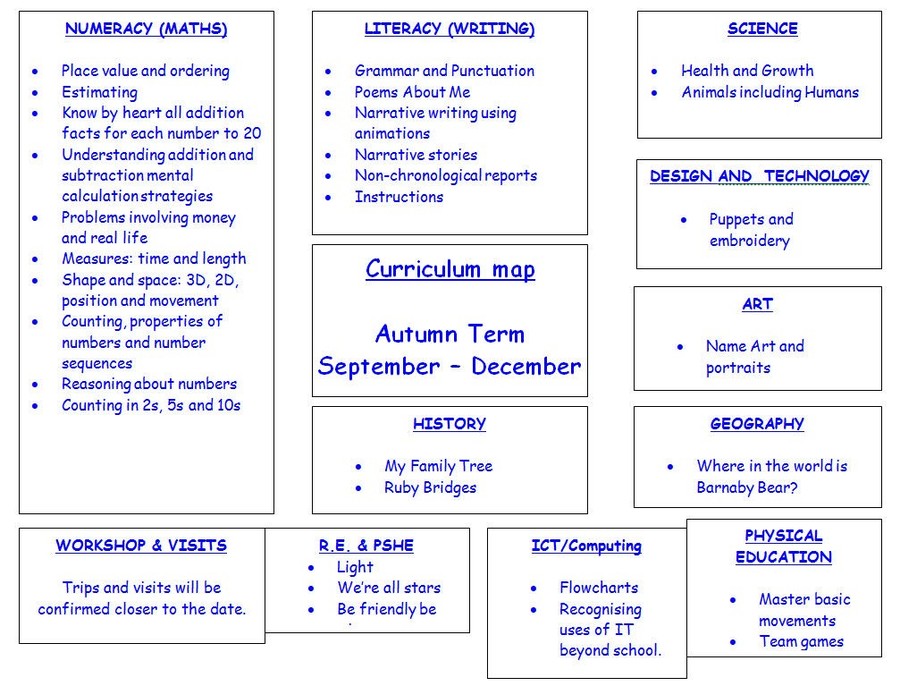 School Uniform: Please ensure your child/children come to school in the correct school uniform.
Lunch Box: Please make sure that your child/children carry healthy food in their lunch box. Also ensure that they only bring in water for break times and healthy drinks for lunch. Children are allowed to drink water in the classroom. Water should be brought in plastic bottles and labelled with your child's name. No fizzy drinks are allowed.
P.E.: Throughout the year, all Year 2 children will take part in class PE lessons during the week. PE lessons may change during the week due to the weather, therefore, please ensure your child has his/her PE kit in school at all times. We will send the PE kits home at the end of each half term to be washed. Your child will need a t-shirt, pair of shorts (track suit bottoms during the winter) and a pair of plimsolls. Due to health and safety, no jewellery should be worn on the day your child has PE.
Book bags: Please ensure that your child brings their book bag to school every day, these can also be left in their lockers during the week. Homework: New homework and reading books will be handed out on Wednesday and should be returned in their book bags the following Monday.
Reading at home: Children will receive a book at their reading level and a story book of their choice once a week, these will be handed out on Wednesday and should be returned on the following Monday.
It is important that you spend at least 10 minutes every day reading to your child and listening to your child read. Please encourage your child to develop skills of inference, interpretation, comprehension and prediction. You can do this by asking your child a range of questions and having a discussion about the book that they have brought home.
Please refer to your child's yellow Reading Record Book for further questions and ensure you sign this book at least once a week.
All children's belongings should be clearly labelled. This includes:• School uniform, PE kits, book bags, lunch boxes and drinking bottles.
Please ensure that all children are lined up promptly at 8:40 am. Please collect them at 3:15pm.Thank you for your continued support.
Miss Bakshi, Miss Taylor, Miss Miles, Mrs Lovell (2SB) (2LT) (2SM) (2HL)